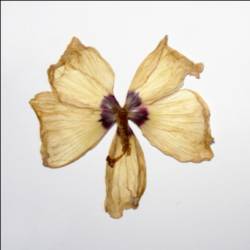 A croire que Daniel aime les nouvelles de science-fiction/fantastic! "Book of Sand" étant la référence directe à la nouvelle de Jorge Luis Borges et "The face of the Waters" à celle de Robert Silverberg. Quant à l'artwork, toujours le sublime travail de John Martin Bell. Un must. Admirez!
Bref ! Outre ces références purement... culturelles, cela n'a strictement rien-à-voir avec la musique. Parce qu'autant vous le dire tout de suite, en ce qui concerne le "black metal", je ne me suis pas pris une baffe comme ça depuis longtemps.
M'étant procuré en ces temps difficiles et obscurs l'excellent
Destruction, Not Reformation
je me disais que l'écoute allait, ma foi, être sympathique. Et je me suis trompé.
Là où
Destruction
était timide, réservé et même intimiste,
Face of the Waters
est déroutant, et dérangé.
L'idée très intéressante que creusait Daniel dans BoS était un délicieux mix entre un black metal aérien - on se souvient de la batterie à peine esquissée - et des envolées de musique de chambre, le tout bercé par une voix sur-saturée. Même si ici le concept reste le même, nous avons un enregistrement totalement différent.
La guitare BM est tout d'abord bien plus en retrait. Ensuite, on note plus de guitare clean en lead, adoucissant l'atmosphère, et nous menant - on peut carrément le dire - vers un rock indie/ambient bien marginal. Mais seulement voilà ça ne s'arrête pas là. Le violon vient vous titiller les oreilles. Et là où
Teitanblood
semble malsain avec sa tripotée de guitares dégoulinantes et son univers occulte, BoS vous perd dans les méandres de ses cordes frottées. Et il est en vérité beaucoup plus sombre.
Les violons sont d'ailleurs très malléables et font parfois penser à du hautbois, ne faisant que renforcer la profondeur du son.
Le chant quant à lui, est plus masculin - même si le groupe veut garder secret son sexe! - bien que toujours curieux et bien barré. Et je dirais même mieux géré. Il suffit de prendre la dernière piste, où la voix me semble être un étrange mélange de cauchemar et de berceuse pour enfant pour en avoir la preuve.
C'est un album étonnant, car à la fois radieux et majestueusement sombre. Book Of Sand s'impose en maître du Black Metal Experimental au même titre que Blut Aus Nord. Eh oui, rien que ça. Et avec son propre style.
Je me permets une chronique ici, déjà parce que j'en ai envie, mais ensuite car
The Face
est très typé ambient, et est composé de cette manière.
Je m'étais donc trompé, l'écoute du disque n'étais pas sympathique. Ce fût bien plus que ça. Ce fût un immense moment de bonheur. Souvent dissonant, toujours délicieux, nectar sucré de black et de free folk, mais empoisonné. Goûtez-y...
Choppez vite vos copies ici
Et écoutez là
Erratum : Le titre nous vient de la Bible (le tout début - (KJV), Genesis 1:1-2) !)
TRÈS CHAUDEMENT RECOMMANDÉ